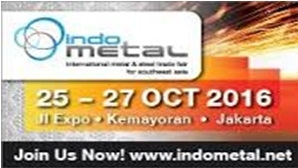 International Metal & Steel Trade Fair for Southeast Asia will be held from 25 to 27 October 2016 at Jakarta International Expo, Kemayoran, Indonesia
In keenly aligning indometal with the latest developments in the metal and steel industries in Indonesia and the wider Southeast Asia region, the leading International Metal and Steel Trade Fair for Southeast Asia will return for its third edition from 25 to 27 October 2016 at the Jakarta International Expo. The specialist trade fair continues to gain momentum and grow its regional footprint.

The strategic staging of the 3-day exhibition comes amidst increasing trade activities in Southeast Asia as the region becomes increasingly attractive for its competitive labour costs, and ideal gateway to serve regional markets. This trend will create an abundance of opportunities for ASEAN to rise up as the next 'world factory', and capture a greater share of global manufacturing opportunities – further spurred on by the onset of the ASEAN Economic Community (AEC) launched at the end of 2015.

Thriving market potential for the region's metal and steel industries Against the backdrop of strong manufacturing investment, the iron and steel industry will continue to be one of the growth drivers fuelling ASEAN's economic expansion, especially as the process of economic integration kicks in. Steel demand in the region will be boosted with the implementation of many infrastructure development programmes from power grids to highway networks, to enhance ASEAN connectivity. Southeast Asia's overall demand for finished steel is expected to grow at a compounded rate of 2.5% between 2014 and 2020, according to MetalBulletin.com.

The steady upsurge in income of ASEAN economies also means heightened demand for automobiles, and electrical and household appliances – an indication favourable to the industry as both sectors are major users of iron and steel products as intermediate inputs. Further rationalization of transport cooperation in the region, especially maritime transport, will signify more prospects for the industry in construction activities.

Indonesia in particular, is registering a steady climb in the country's steel sales with the development of numerous infrastructure projects, alongside that of defense and manufacturing. According to indonesia-investments.com, the market value of Indonesian steel sales is set to reach US$8 billion at the end of 2015. However, limited domestic steel production capacity against overwhelming demand has created ready inroads for foreign imports to fulfill the deficit and gain foothold into Indonesia's domestic market.

Seizing opportunities in the evolving and high-growth metal and steel industries in the region, indometal 2016, is strongly supported by the following key industry partners:

Ministry of Industry, Republic of Indonesia
– Ministry of Trade, Republic of Indonesia
– The Indonesian Iron & Steel Industry Association (IISIA)
– Federation of Indonesian Metalworks & Machinery Industries Association (GAMMA)
– Association of Metalwork and Machinery (ASPEP)
– Indonesian Foundry Industries Association (APLINDO)
– Indonesian Foundrymen's Association (HAPLI)
– Indonesian Aluminium Extruders Association (APRALEX)
– Indonesian Electric Cable Manufacturers' Association (APKABEL)
– Indonesian Automotive Parts & Components Industries Association (GIAMM)
– Indonesian Chamber of Commerce and Industry (KADIN)
– Indonesian Exhibition Companies Association (IECA)

Will present a robust integrated platform for the metal and steel industries. Covering a broad range of display from raw materials, processing and equipment to production and logistics, the trade fair will focus on six main segments tailored to the current movements in the metal and steel industries:

Metallurgical technology
– Foundry machinery, equipment and supplies
– Semi-finished and finished products
– Thermo process technology
– Accessories and components


– Tubes


Following the success of indometal 2014, that saw an expansive showcase of leading-edge machinery and technology, and numerous networking opportunities by 296 exhibitors from 26 countries and 6,484 visitors from 29 countries, the third edition of indometal returns bigger and better as the region's definitive procurement, sourcing and networking platform for the industry, and an ideal gateway to Indonesia's dynamic metal and steel markets.
Jointly organized by Messe Düsseldorf Asia and PT. Wahana Kemalaniaga Makmur , and built upon the global expertise of GIFA, METEC, THERMPROCESS AND NEWSCAST, indometal 2016 will unveil an impressive line-up of industry-defining machinery and products ranging from foundry technology, casting products, metallurgy and thermo process technology.


For space bookings and more information on indometal 2016, please visit

www.indometal.net
About the organizers


Messe Düsseldorf Asia is a subsidiary office of Messe Düsseldorf GmbH, one of the world's leading trade fair organizers of more than 20 global No. 1 trade fairs across various industries. Established trade fairs under Messe Düsseldorf GmbH's portfolio include GIFA, METEC, THERMPROCESS AND NEWSCAST (metal and flow technologies), MEDICA, COMPAMED and REHACARE INTERNATIONAL (medical and healthcare), as well as DRUPA, INTERPACK and K (plastics, printing and packaging) and PROWEIN (wine/lifestyle).

With extensive expertise in organising trade fairs in Southeast Asia, Messe Düsseldorf Asia has developed and organized numerous trade fairs in the region since 1995 – providing ideal business platforms for international exhibiting companies to gain direct access into Southeast Asia. PT Wahana Kemalaniaga Makmur (WAKENI) has been representing Messe Düsseldorf GmbH for the marketing and promotion of its trade fairs to the Indonesian market since 1991.

For more information, please visit http://mda.messe-dusseldorf.com/
Press Contact Worldwide
Fulvia Wong
Tel: (65) 6332 964


Email:

fulvia@mda.com.sg
Exhibitor Contact Worldwide:
Beattrice J. Ho
Tel: (65) 6332 9642
Email: beattrice@mda.com.sg
Press Contact Within Indonesia:
Silvia Angel
Tel: (62) 21 5366 0804
E-mail: silvia@wakeni.com
Exhibitor Contact Within Indonesia:
Cloudinia J. Dieter
Tel: (62) 21 5366 0804
E-mail: cloudinia@wakeni.com