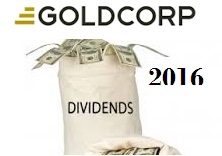 GOLDCORP INC is pleased to declare its quarterly dividend for the three month period ended June 30, 2016 of $0.02 per share. Shareholders of record as of the close of business on Thursday, June 16, 2016 will be entitled to receive payment on Friday, June 24, 2016.
Pursuant to tax legislation enacted in 2007, Canadian resident individuals who receive "eligible dividends" in 2006 and subsequent years will be entitled to an enhanced gross-up and dividend tax credit on such dividends. All dividends paid in 2006 and subsequent years by Goldcorp Inc. are "eligible dividends" for this purpose.
This press release is not an offer to sell or a solicitation of an offer of securities. Goldcorp has filed with the U.S. Securities and Exchange Commission a registration statement on Form F-3 dated October 9, 2015 and a related prospectus dated May 5, 2016 with respect to the DRIP.
About Goldcorp
Goldcorp is a global senior gold producer focused on responsible mining practices with safe, low-cost production from a high-quality portfolio of mines.
Lynette Gould,
Director, Investor Relations,
Goldcorp Inc.,
Telephone: (604) 695-1446,
Fax: (604) 696-3001,
E-mail: info@goldcorp.com,
www.goldcorp.com