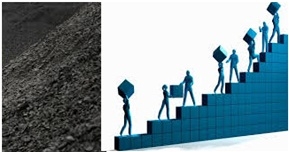 European cargoes for nearby delivery to Amsterdam, Rotterdam or Antwerp (ARA) last closed at $52.31 a tonne, up around 3 percent in the past month, partly supported by oil.
Benchmark crude oil has risen around 10 percent over the same period, boosted by supply disruptions.
European API2 coal futures traded down 20 cents at $49.50 a tonne, above the more than 12-year low of $36.30 hit in February.

"It's probably related to oil a bit, the only change in the fundamentals is we're seeing supply in China and Indonesia come off, so that has definitely given a boost to sentiment," Capital Economics commodities economist Tom Pugh said.
Indonesia, the world's top thermal coal exporter, expects its coal production to edge down in 2017, as smaller miners cut output due to a plunge in prices for the commodity.

On the demand side, analysts have scaled back their expectations on the import needs of the largest buyer China after its shipments fell around 30 percent in 2015 and have continued to decline this year.
China is working towards cutting coal-fired power generation in a bid to improve air quality and encourage the use of cleaner sources of electricity, including renewables and nuclear.
"The demand side is as dismal as always," Pugh said.Meanwhile a sharp fall in gas prices has boosted its competitiveness in the fuel mix.Cheap gas is tempting out new importers in Africa and South America, helping stave off a deeper price rout hurting producers' bottom lines.
"In most places in Europe and Asia coal is still probably cheaper (than alternative fuels) but not by nearly as much as it used to be," Pugh said."Once you start to factor in things like carbon taxes and government carbon policies then gas does start to look like a very attractive option compared to coal."