Lucara Diamond Corp., which runs the Karowe Mine in Botswana and holds multiple exploration licences in the region, reports record earnings – and dividends – for the year 2016. Revenues increased 32% to $295.5 million from $223.8 million in 2015, with its EBITDA surging 38% to $184.4 million on the back of a 40% rise in price per carat achieved: $824 per carat compared to $593 per carat a year ago. However, net income declined 9% to $70.7 million in 2016, mainly due to a foreign-exchange loss of $11 million compared with a gain of $15 million a year earlier, the company.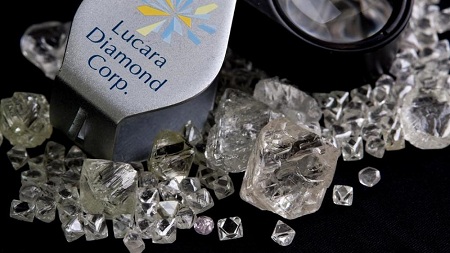 Lucara sold 358,806 carats during the year. Q4 earnings at $66 million were up slightly over Q4 2015 ($65.2m), while Q2 dividends of $140.8 million were the game-changer for the year 2016, specifically as a result of the sale of the 813-carat Constellation rough diamond for a record $63.1 million, or $77,649 per carat, in May. "But if we take that Constellation out," said CEO William Lamb in a conference call, "we still actually had record value sales for the regular and special tenders," and even without the incredible price per carat of the Constellation, their average would have been $649/carat.

Lucara's new mine contractor, Moolman Mining Botswana (Pty) Ltd a subsidiary of Aveng Mining ("Aveng Moolmans") commenced mobilization to the Karowe mine in February. Since December 2016, during the period of transition to Aveng Moolmans, Karowe has processed ore from stockpile resulting in lower than forecast ore and waste mined for the year. Ore processed for the year was in excess of forecast at 2.6 million tons with diamond recoveries totaling 353,974 carats, which was in line with forecast. They report the successful implementation, on time and on budget, in Q3 of the project to increase the top size of diamonds recoverable by the existing Large Diamond Recovery. The Mega Diamond Recovery ("MDR") and the sub middles XRT project are advancing and expected to complete on time and on budget in 2017.

William Lamb, President and Chief Executive Officer commented "The Company achieved record sales in 2016. We demonstrated our commitment to deliver consistent and sustainable value to our shareholders as well as the strength of our cash flow generation by paying a special dividend during the year, while continuing to advance growth opportunities in Botswana. We remain focused on operating performance at the Karowe mine and are well positioned to continue to drive operating efficiencies and safe productivity in partnership with our new mining contractor. Our capital projects for enhanced diamond recovery are on target to be completed in 2017, ensuring maximum diamond recoveries from the high value south lobe. We also remain excited with our work on resource expansion at the Karowe mine through our deep drilling program and our advanced exploration program in Botswana."

Karowe is forecast to process 2.2-2.5 million tons of ore, producing between 290,000 and 310,000 carats of diamonds in 2017. Revenue is forecast between $200 and $220 million. This excludes the anticipated sale of Lesedi La Rona held in inventory at December 31, 2016. Lucara's year-end cash position fell to $53.3 million from $134.8 million in 2015, largely as a result of record dividend payments of $149.7 million during the period, but also due to currency issues. "If we look at foreign-exchange calculations and how tax would have been affected, if we strip that out, those numbers would actually look very different," William Lamb, Lucara's chief executive officer, said in an earnings call on Friday transcribed by Seeking Alpha.
Operations

Ore mined in Q4 2016 was 0.6 million tons and waste was 2.7 million tons. Tons of ore and waste mined were lower than forecast as Karowe's previous mine contractor commenced demobilization from site and ore was processed from stockpile. The process plant in Q4 processed 14% more tons than forecast for the quarter and 6% more than forecast for the year, resulting in Karowe achieving its carat recovered forecast in excess of 350,000 carats. The project to increase the top size of diamonds recoverable by the existing Large Diamond Recovery was successfully implemented on schedule and within budget. The MDR project is on schedule at 45% complete.

Exploration
Drilling commenced on the planned 10,000 metre deep drill program designed to test the Karowe AK06 kimberlite at depths below 400m with the objective of converting inferred mineral resources into the indicated category in support of an underground mining study. The drilling component of the program is expected to be completed in February 2017. In 2014, the Company was awarded two precious stone prospecting licenses (PL367/2014 and PL371/2014) which are known to host kimberlites, BK02, AK11 and AK12, AK13 and AK14.
The prospecting licenses are located within a distance of 15 km and 30 km from the Karowe mine. On March 31, 2016, the Company completed the transfer of its shares of Mothae Diamonds Pty Ltd. and the Mothae site bulk sample plant to the Government of Lesotho.