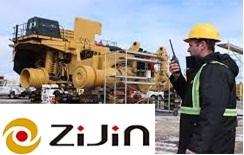 On May 20, 2016, Altynken LLC, a subsidiary of Zijin Mining Group, has completed the tailing pond project and technical innovation on copper and sulphide separation.
And these projects have passed the examination byKirgiz National Ecology & Technology Safety Administration.
Altynken LLC is equipped with mining, processing and metallurgy capabilities and restarts production after technical innovation. Mr. Wang Jianhua, President of Zijin, conducted the completion of these projects.