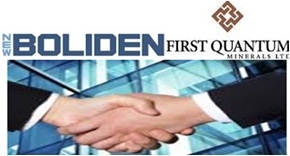 First Quantum Minerals Ltd. announced the completion of the sale of the Kevitsa nickel-copper-platinum group elements mine to Boliden AB.
Total proceeds from the sale, excluding working capital adjustments, amounts to $712 million in cash.
On Behalf of the Board of Directors of First Quantum Minerals Ltd.
G. Clive Newall, President
12g3-2b-82-4461
Listed in Standard and Poor's
website at www.first-quantum.com.
Contact Information:
North American contact:
Sharon Loung
Director, Investor Relations
(647) 346-3934
(604) 688-3818 (FAX)
Toll Free: 1 (888) 688-6577
sharon.loung@fqml.com
United Kingdom contact:
Clive Newall
President
+44 140 327 3484
+44 140 327 3494 (FAX)
clive.newall@fqml.com
manjyot.k@nexifyglobal.com