The UAE's finest tool operatorswill have a live platform to showcase their skills, as they lay down the gauntlet in acompetition dedicated tothe hard working men behind the country's iconic landmarks.
The Tool It! Challenge is the Middle East's first competition inviting contracting and fit-out firms, construction companies, or workshop owners, to nominate their most skilled technicians for an intensive test of will, as they grind, drill, and cut their way to glory among industry peers.
The three-day competition will take place at Hardware + Tools Middle East 2017, the region's premier trade fair for building materials and construction machinery, which runs from 22-24 May at Dubai International Convention and Exhibition Centre.
It will comprise three categories: Woodwork Routing and Screw Driving; Plumbing; and Metalworking, with leading professional tool manufacturers Bosch, 3M, RIDGID, and Nitto Kohkion board as category sponsors.Contestants will be given a set of electric power tools provided by the sponsors and made to perform similar activities over a given time frame. They will be evaluated by a jury panel, and adjudicated on fixed parameters such as aesthetics, safety, and efficiency.
The Prize? All participants will be awarded certificates by organiser Messe Frankfurt Middle East, while the winners will be the proud owners of the latest cutting-edge power tool sets provided by sponsoring brands."The Tool It! Challenge recognises and rewards the hard working men that are a crucial component of any successful project, regardless of the industry," said Ahmed Pauwels, CEO of Messe Frankfurt Middle East.
"These are the men that work tirelessly behind the scenes in building some of the UAE's most loved landmarks, using skills and techniques needed to perform in the most extreme conditions.The competition also underlines the importance of having top quality dependable tools in order to ensure the safety of the worker and the workplace," he added.
The Tool It! Challenge is open to contractors, sub-contractors, woodworking and other workshop personnel, tool technicians, operators, metalworkers, drillers, cutters and grinders operating across the UAE. Nominations close by the end of April 2017.
Hardware+Tools Middle East is a magnet for trade buyers from across the Middle East and North Africa, including distributors, retailers, exporters, importers, contractors, fabricators, consultants and industry professionals involved in the construction and industrial sectors.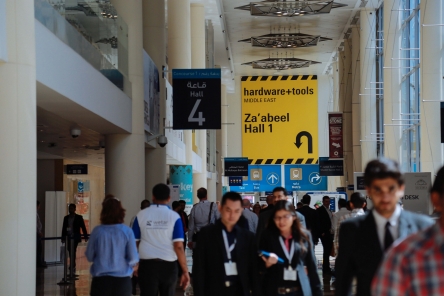 The 18th edition will feature Country Pavilions from China, Thailand and Taiwan, and will host more than 185 exhibitors from 12 countries representing over 250 brands. The exhibition will also include the Expert Zone, a dedicated section featuring the most innovative products and solutions from leading manufacturers. More information is available at www.hardwaretoolsme.com
About Hardware+Tools
Hardware+Tools is the Middle East's only dedicated event for tools, hardware materials and machinery. Industry professionals involved in the supply of equipment to or the design, construction, build or specification of commercial or residential developments understand the importance of keeping up to date with new products, services and technology in the field.Hardware+Tools Middle East is the perfect platform to meet new contacts, discuss new trends and technological developments, keep up to date with industry knowledge and source new products and solutions. The next edition will take place from 22-24 May 2017 at the Dubai International Convention and Exhibition Centre. Show website: www.hardwaretoolsme.com
Background information on Messe Frankfurt
Messe Frankfurt is the world's largest trade fair, congress and event organiser with its own exhibition grounds. With some 2,400 employees at 30 locations, the company generates annual sales of over €640 million. The Messe Frankfurt Group has a global network of 30 subsidiaries and 55 international sales partners, allowing it to serve its customers on location in 175 countries. Messe Frankfurt events take place at approx. 50 locations around the globe. In 2016, a total of 138 trade fairs were held under the Messe Frankfurt umbrella, of which more than half took place outside Germany.

Thanks to its far-reaching ties with the relevant sectors and to its international sales network, the Group looks after the business interests of its customers effectively. A comprehensive range of services – both onsite and online ensures that customers worldwide enjoy consistently high quality and flexibility when planning, organising and running their events. The wide range of services includes renting exhibition grounds, trade fair construction and marketing, personnel and food services. With its headquarters in Frankfurt am Main, the company is owned by the City of Frankfurt (60 percent) and the State of Hesse (40 percent).For more information, please visit our website at: www.messefrankfurt.com
About Messe Frankfurt Middle East GmbH
The portfolio of events for Messe Frankfurt Middle East includes Automechanika Dubai, Automechanika Jeddah, Automechanika Riyadh, Beautyworld Middle East, Hardware+Tools Middle East, Intersec, Intersec Saudi Arabia, Leatherworld Middle East, Light Middle East, Materials Handling Middle East, Materials Handling Saudi Arabia, Paperworld Middle East, and Prolight + Sound Middle East. The subsidiary also organises a series of conferences and seminars including the BOHS Worker Health Protection Conference, the Business in Beauty Summit, the Light Middle East Conference, Smart Traffic Middle East, and Future Mobility. For more information, please visit our website at www.messefrankfurtme.com
For more information, please contact:
Gareth Wright, Samah Mousa
Dubai, UAE
Tel: +971 4 3894 573
Gareth.wright@uae.messefrankfurt.com
Samah.mousa@uae.messefrankfurt.com