Haver & Boecker Niagara announces two new educational guides that expand its dedicated PROcheck service program. The company's signature service examines the potential in every segment of an operation's screening process to solve material handling challenges and to keep equipment running at peak performance.
The first guide, titled "Finding the Sweet Spot, Your Guide to Optimal Screening," helps customers better understand the relationship between opening, open area and wear life and how to optimize their vibrating screens for maximum throughput and product quality. By analyzing the three phases of screening — layered, basic and sharp — Haver & Boecker Niagara can help customers find the optimal combination of open area and wear life in each phase by blending the right types of screen media to achieve desired product specification.
The second guide, "Boost Productivity with Double Eccentric Technology," offers customers four methods to maximize screening action, reduce vibration into their structures, improve stratification and prevent equipment damage. By integrating cutting-edge systems like double eccentric screening technology, state-of-the-art screen media and diagnostic tools, customers can prevent the risk of blinding, pegging, carryover or contamination, which improves screening efficiency and productivity.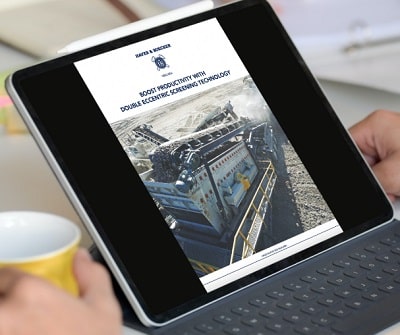 Both educational guides complement Haver & Boecker Niagara's signature PROcheck, a comprehensive program dedicated to keeping customers' operations running at peak performance. PROcheck applies Haver & Boecker Niagara's expertise in diagnostics, processing equipment, screen media, original parts, rebuilds and upgrades, services, plants, systems and process engineering to inspect customers' screening processes in order to recommend best practices for screening proficiency. The program follows an in-depth eight-point inspection, including a thorough analysis of the vibrating screen and screen media. All observations and recommendations are recorded in a comprehensive PROcheck report that is available before the Haver & Boecker Niagara representative leaves the site. PROcheck is further enhanced by Haver & Boecker Niagara's Pulse Vibration Analysis to help customers maximize productivity, proficiency and profits.
"The addition of these two new educational guides complements PROcheck and demonstrates our continued commitment to providing our customers with a full suite of tools that enhance their screening process," said Kristen Randall, marketing manager of Haver & Boecker Niagara's North American and Australian operations. "Our team's unique understanding of the entire screening process enables us to provide customers with comprehensive solutions that go beyond our screening technology, resulting in improved efficiency and profitability."