ArcelorMittal has opened a new, €63m production line – the Jet Vapor Deposition (JVD) line – at its facilities in Kessales, Belgium. His Majesty King Philippe of Belgium officially inaugurated the line at an event.
The opening is the culmination of years of scientific investigation by ArcelorMittal's research and development teams in collaboration with the Metallurgical Research Centre, CRM group, to create a new, breakthrough technology for the metallic coating of steel.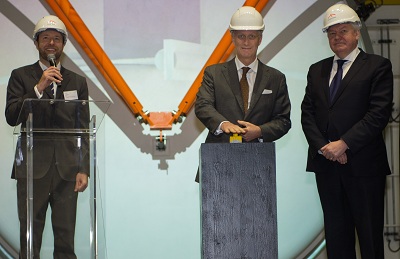 The invention continues the Walloon tradition of stretching the boundaries of coating technology for steel – the first hot dip galvanising line was commissioned in 1881 in Flémalle and the world's first electrolytic galvanised steel rolled off the production line in Marchin in 1954.

The new JVD line is part of a major €138m investment programme within the scope of the 2014 Industrial Plan, an agreement between ArcelorMittal, the Walloon Government, Sogepa (Société de Gestion et de Participations) and the social partners. The JVD project was financed by Sogepa through ARCEO, a joint venture between Sogepa and ArcelorMittal.
The JVD technology coats moving strips of steel in a vacuum chamber, by vaporizing zinc onto the steel at high speed. Zinc is used to coat steel to prevent corrosion, in order to improve durability.
The JVD technology, which will be used to produce coated steels for automotive and other industrial applications, offers multiple advantages including:

• A lower environmental footprint. A life-cycle assessment evaluating the environmental impact of this process as a whole – the coating, the use phase of the products, the waste products and their management – showed a higher yield and lower energy consumption than other coating techniques. JVD technology has the lowest 'global warming potential' – a measure used in life-cycle assessment – of any industrial steel coating process
• It ensures an exceptionally uniform coating, which enhances the surface quality and makes welding easier for the customer
• It guarantees excellent adhesion of the coating, regardless of the steel grade, even for the new ultra-high strength steels currently under development
• Coating the steel under vacuum and at lower temperatures removes the risk of the steel or zinc oxidizing
• It is a highly flexible process thanks to its ability to produce different coating thicknesses (one side versus another) and to coat a variety of substrates regardless of their chemical composition.
Speaking at the event, Matthieu Jehl, CEO of the ArcelorMittal Gent-Liège cluster, said:
"ArcelorMittal's strength lies in its ability to innovate and push the boundaries of steelmaking. The €63m investment made in the JVD line together with our partners, and the wider investment plans for ArcelorMittal's Gent and Liège clearly underline that ArcelorMittal believes in the steelmaking future of Belgium. I'm extremely proud of all the ArcelorMittal employees who have contributed to this project."

Jean-Claude Marcourt, Vice-President of the Government and Walloon Minister of Economy, Industry, Innovation and Digitalization, who was present at the inauguration, said:

"Today reconfirms the worldwide leadership of Wallonia in the field of coating technology.
The future of Walloon steel depends on innovation. In this way, we will be able to further develop production thanks to the know-how and the excellence of our highly-qualified people."
Renaud Witmeur, president of the Sogepa management committee, said:

"The JVD technology demonstrates the Liège basin's steel sector expertise and innovation capacity. This investment by Sogepa, alongside ArcelorMittal, demonstrates our commitment to contribute, alongside our private partners, to the future of the sector in Wallonia through truly innovative products".

Greg Ludkovsky, vice president and head of research and development at ArcelorMittal, added:
"The JVD process is unique – a world-first – and is the result of a breakthrough scientific development. Today's inauguration is the culmination of eight years' hard work by ArcelorMittal and the CRM group, starting with a small laboratory trial and ultimately becoming a full industrial solution that's now operational and means we can bring unique solutions to our clients in many different markets."

JVD is a breakthrough process, not only in terms of production process but also in terms of product development. It creates two brand new product families: Jetgal® and Jetskin™, to ArcelorMittal's unique range of metallic coatings.
• Jetgal® is the brand name for the JVD zinc coating applied to steel grades for the automotive industry. It has been developed for steels including ultra high-strength steel Fortiform®, which is produced in ArcelorMittal Gent and Liège.
• Jetskin™ is the brand name for the JVD zinc coating applied to steel grades for industrial applications such as household appliances, doors, drums and interior building applications.

Want to know more?
• Watch our JVD video
• For more information about Jetgal® other metallic coatings for the automotive sector visit automotive.arcelormittal.com/coatingscoldstamping
• Find out more about our operations in Europe

About ArcelorMittal in Belgium
ArcelorMittal in Gent and Liège has a workforce of 5,800 employees. Its total number of direct and indirect jobs is estimated at 13,000. In 2016, the company shipped 6.6 million tons of finished steel products to its customers, destined for the automotive sector and many other industries such as the white goods sector, construction, packaging…

About Sogepa
Sogepa is an investment fund that provides investment services and accompanies business reorganization initiatives driven by credible and sustainable economic and industrial projects. It develops a large range of solutions: equity participation, loans, advise and interim management. By investing in steel projects, Sogepa is contributing to making Wallonia a region of technological innovation in an industry that is central to our economy.

Contact details:
ArcelorMittal Gent-Liège
Jan Cornelis
jan.cornelis@arcelormittal.com
Tel.: +32 (0)9 347 35 72 / +32 (0)499 599 394

Sogepa
Séverine Cirlande
Severine.cirlande@sogepa.be
Tel .: 0477 37 06 28