Kenmare Resources plc , one of the leading global producers of titanium minerals and zircon, which operates the Moma Titanium Minerals Mine (the "Mine" or "Moma") in northern Mozambique, is pleased to provide a trading update for the quarter and half year ending 30 June 2018.
Statement from Michael Carvill, Managing Director:
"I am pleased to report that production in Q2 2018 increased from Q1 2018, in line with expectations and guidance for the full year. Final product shipment also achieved new records, whilst average product prices received increased, resulting in strong cash flow generation in H1 2018. Our net debt has consequently been reduced by a further US$25.0 million.

This strong cash flow has been achieved in spite of planned spending on capital projects to expand mining capacity. I have been encouraged by the progress of the WCP B upgrade, which is currently commissioning, ahead of time and below budget.

Kenmare looks forward to providing more clarity on our plans for the future at a Capital Markets Day scheduled for October this year. The focus will be on our drive to increase production and reduce unit costs by 2021, funded by internally generated cashflow. We will also provide an outline of our dividend policy."
Overview
Heavy Mineral Concentrate production increased by 5% to 377,900 tonnes (Q2 2017: 359,200 tonnes). Ilmenite production decreased by 4% to 238,500 tonnes (Q2 2017: 248,300 tonnes) but increased 13% on Q1 2018 figures. Primary zircon production decreased by 9% to 11,700 tonnes (Q2 2017: 12,900 tonnes) but increased 4% relative to Q1 2018.

Total shipments increased 15% to 322,000 tonnes (Q2 2017: 279,600 tonnes) setting a new quarterly record. Wet Concentrator Plant B ("WCP B") upgrade currently being commissioned, ahead of time and under budget. Average received final product prices increased in Q2 2018, led by zircon. Net debt reduced to US$9.1 million (31 December 2017: US$34.1 million), with cash on hand of US$84.2 million. Capital Markets day scheduled for 16 October 2018.

Production

Production from the Moma Mine in Q2 & H1 2018 was as follows: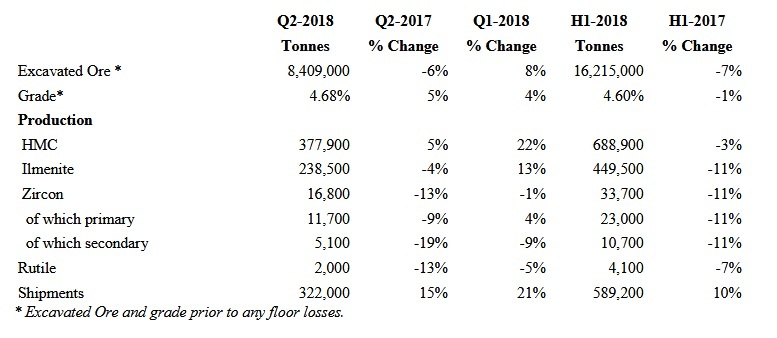 During Q2 2018, Kenmare mined 8.4 million tonnes of ore at an average grade of 4.68%, producing 377,900 tonnes of HMC. Finished product volumes for the period included 238,500 tonnes of ilmenite, 16,800 tonnes of zircon and 2,000 tonnes of rutile.
The tonnage of ore excavated was up 8% in comparison to Q1 2018, as dredge and supplementary mining benefitted from higher throughput and utilisation rates and were less impacted by planned stoppages. Grades increased slightly in comparison to Q1 2018 to 4.68%, up 4%. Capacity improvements have been implemented at WCP A supplementary dry mining to increase throughputs, and a similar programme is currently underway at WCP B.

Ilmenite production for the quarter was 238,500 tonnes, down 4% on Q2 2017, but up 13% compared to Q1 2018, reflecting higher HMC production levels and availability. Despite improved plant reliability in Q2 2018, production utilisations in the Mineral Separation Plant ("MSP") were impacted by reduced reliability in the power network as unplanned outages, normally associated with the wet season, continued for longer than expected this year.
We are liaising closely with Electricidade de Moçambique, our electricity provider, to seek resolution on these matters. Zircon production of 16,800 tonnes for the period was broadly in line with Q1 2018 (16,900 tonnes), yet declined 13% in comparison to Q2 2017 (19,200 tonnes). Zircon production in Q2 2017 was supported by an additional 26,900 tonnes of zircon rich spillage material that was reprocessed.

The upgrade of WCP B, from 2,000 tonnes per hour to 2,400 tonnes per hour, is being commissioned ahead of schedule and the project is currently under budget of US$16 million. Further details will be provided as part of the H1 2018 interim results, due to be announced on 20 August 2018.

Grades are forecast to be lower in H2 2018 and mining conditions are expected to become more challenging, particularly at WCP A. These issues will be addressed by higher levels of supplemental mining and increased production at WCP B. Production of final products will also be supported by HMC stock, which has increased during the quarter.

Kenmare shipped 322,000 tonnes of finished products in Q2 2018, comprising 298,300 tonnes of ilmenite, 21,300 tonnes of zircon (including 8,300 tonnes of secondary grade zircon) and 2,400 tonnes of rutile. This represents a new quarterly record, which benefitted from good demand and favourable shipment variations at the beginning and end of the period. As product inventories have substantially reduced, it is expected that shipping volumes will be lower in H2 2018 Closing stock of HMC at the end of Q2 2018 was 52,300 tonnes, compared with 24,200 tonnes at the beginning of the quarter. Closing stock of finished products at the end of Q2 2018 was 129,600 tonnes (Q2 2017: 202,500 tonnes, Q1 2018: 194,200 tonnes).

Market
Strong demand for Kenmare ilmenite continued into Q2, with record volumes shipped for the quarter and half year, resulting in a further drawdown of inventory at Moma. This was driven by steady sales to the China spot market as well as some accelerated shipments to contracted customers as western pigment plants maintained high utilisation rates.

As in previous years, we are seeing some seasonal weakness in the Chinese ilmenite market over the summer months. Coupled with ongoing disruption to pigment plant operating rates driven by the implementation of environmental regulations, this is leading to a slowdown in ilmenite purchasing activity. Domestic ilmenite production in China has increased, as has the supply of ilmenite concentrates from Africa, which has rebalanced the market and led to some softening of prices in recent weeks.

Global pigment demand growth was favourable in the first half of 2018, driving increased feedstock demand, but there are some signs of demand growth slowing outside North America.

The zircon market continues to benefit from steady demand and constrained supply, driving higher prices. Further price increases were achieved in Q2 2018 and are being implemented in Q3 2018 in line with the prevailing movement in the market.

Finance Update
Following the first principal debt repayment on 1 February 2018, gross bank loans, including accrued interest, amounted to US$93.3 million at 30 June 2018 (31 December 2017: US$102.9 million). Cash and cash equivalents were US$84.2 million (31
December 2017: US$68.8 million). Consequently, net debt stands at US$9.1 million (31 December 2017: US$34.1 million).
The Company's half-yearly results in respect of the six months ended 30 June 2018 will be issued on 20 August 2018. Kenmare will also be holding a Capital Markets Day in London on 16 October 2018, providing further information on the Company's development projects and dividend policy.