The global aluminium market will see a number of deficits over the next few years as solid demand growth, driven by the construction and autos sectors, outpaces production growth, a new aluminium supply and demand outlook by Fitch Solutions reports.
The global aluminium demand outlook will benefit from solid construction industry growth and growing roles in autos as a lightweight substitute for steel. Fitch forecasts the global aluminium market to witness consistent deficits from 2019 to 2023, with the aluminium stock-to-use ratio declining steadily from 9.6% 5.1% over the same period.
The automotive and aerospace sectors will increasingly support aluminium demand in key markets, as an environmentally preferable alternative to steel. Fitch cites several significant deals between auto or aircraft manufacturers and aluminium producers highlight this trend over the past few years, such as Arconic's multi-year supply deal with Toyota in 2017.
China's aluminium production growth will slow down over the coming years, as the government's push for consolidation and stricter environmental regulations brings higher-cost and less efficient capacity offline.
Fitch forecasts the country's aluminium output to edge higher, from 34.3m tonnes in 2019 to 41.9m tonnes by 2028, averaging 2.4% annual growth, compared to an average annual rate of 11.7% growth over the previous ten-year period. Nonetheless, China will remain the driving force behind global aluminium production, accounting for over half of total output over the coming years.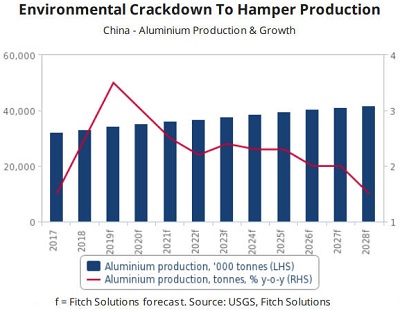 Aluminium integration will continue in more regulated automotive markets such as the US, the EU and Japan, while developing markets will present further growth opportunities. While we expect this trend to continue over the long-term, rising aluminium prices will present near-term headwinds to the integration of the metal in the autos sector as carmakers look to keep costs down
While there are deficits ahead, the global aluminium demand picture will improve, driven by steady demand growth in Asia and the growing application of aluminium in the auto and aerospace industries. Fitch analysts forecast aluminium consumption to increase from 62.9m tonnes in 2019 to 79.7m tonnes by 2028, averaging 2.8% annual growth.