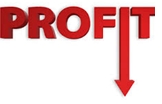 CHINA Shenhua Energy Company Limited, the nation's top coal producer, has said its net profits plummeted 28.3 percent year on year to 4.74 billion yuan (US$734 million) in the first quarter of 2016.
Shenhua, a State-owned enterprise listed both in Shanghai and Hong Kong, said in a statement that its revenue in the first quarter fell 4.6 percent to 39.4 billion yuan.

Shenhua's coal segment reported a year-on-year decrease of 49.6 percent in gross profit in the first quarter of 2016, owing to falling coal prices and rising sales cost, according to the statement.

China is the world's largest coal producer, but the coal sector is hard hit by an industrial glut. In the first quarter this year, oversupply remained unsolved in the coal market, Shenhua said in the statement.
Yet the coal price bottomed out as the relation between the supply and demand tends to be favorable for the suppliers, it said.
The share price of Shenhua rose 1.8 percent to 14.78 yuan apiece in Shanghai on Friday ahead of the statement. Its share price edged down 0.15 percent in Hong Kong.

Both the Shanghai and Hong Kong stock exchanges were closed on Monday for the Labor Day holiday.
http://www.shanghaidaily.com/business/energy/China-top-coal-producer-reports-less-profits-in-Q1/shdaily.shtml