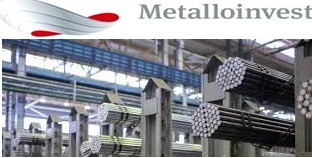 The second gas purification unit at the electric arc furnace shop (EAF) was launched at OEMK (part of Metalloinvest).

Ivan Streshinsky, Chairman of the Board of Directors of Management Company Metalloinvest; Andrey Varichev, the Company's CEO; Andrey Ugarov, First Deputy CEO, COO; and Nikolay Shlyakhov, Managing Director of OEMK, attended the launch event.
The commissioning of the second gas purification unit (at EAF #1 and EAF #2) is the final stage of a large-scale investment project to modernise the entire gas purification system at the electric arc furnaces. The first gas purification unit (at EAF #3 and EAF #4) was commissioned in February 2013. The total cost of the project amounted to almost 2.7 billion roubles.
Ivan Streshinsky commented: "Despite the challenging market conditions, Metalloinvest's strategic priorities remain unchanged. The Company's Board of Directors believes in the necessity of projects aimed at improving the environmental performance of our operations and working conditions for our employees. Therefore, substantial investments were made in order to construct a new gas purification system".
As a result of the introduction of a new system, total dust emissions into the atmosphere from electric arc furnaces fell by more than 2 times, dust content in exhaust gases fell by 3 and more times. Dust levels in steelmaking workplaces fell by an average of 50%.
Andrey Varichev underlined: "Minimising the environmental impact of our production operations has always been and remains a priority for Metalloinvest. The construction of the gas purification system at OEMK's electric arc furnaces is one of the investment programme's strategically important projects. The new equipment will help to enhance working conditions for steel workers and improve environmental performance."
Andrey Ugarov highlighted: "Today is an important day for all of us. Every single one of us was waiting for it. The Oskol steel workers have successfully implemented a complex, large-scale project, which benefits them, because the air at the plant will be cleaner, as well as the environment through a reduction in atmospheric emissions. The plant has always strictly complied with all environmental regulations. The launch of the gas purification system will further improve our performance."
Nikolay Shlyakhov added: "The complete modernisation of the gas purification system at ОEМК's EAF is an important project from both an environmental and operational standpoint. First of all, it has a positive impact on steel workers, as dust levels in the workplace have decreased by 50%. Moreover, the reduction in dust emissions will help to improve the environmental situation in the region as a whole."